No accounting for taste
I rarely pause to consider how fortunate I am that my better half is financially savvy.
We first met at work – she was my boss, sadly – and I marvelled at her ability to solve seemingly impossible equations & accounting disclosures when preparing consolidated group accounts (handy skills indeed, if not exactly riveting dinner party conversation).
A farmer's daughter, my missus had always been of the belief that you never sell well-located land, and adopts a similar approach to index funds.
That's gelled pretty well with the way I see the world, while we've tended to meld our views & goals over time.
Alas not every union is so charmed…
Less smooth sailing
Thankfully I'm not a marriage guidance counsellor, but it's said that disagreements & wrangles over money frequently arise when there are issues in another part of a relationship.
An unhappy corollary of this is that some monetary squabbles won't ever be satisfactorily solved.
Indeed, one of the great challenges for financial planning today is that the old assumptions of a smooth transition from young adult singleton, to blissful marriage, to parenthood – with no partner changes, career breaks or switches, or loss of employment – simply won't prove to hold true for many Aussies today.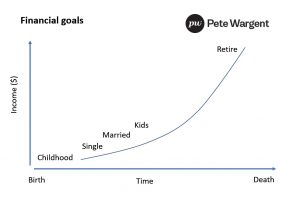 The popularity of books such as A Man is Not a Financial Plan implies that looking after yourself first financially and not being reliant on anyone else may be increasingly important.
Teamwork makes the dream work
It's common for there to be no one-size-fits-all in the world of economics, & possibly nowhere is this more true than in the case of personal relationships & financial objectives.
The posts on this blog are intentionally snappy, intended to generate thought & discussion, so here are 5 quickfire facets of a healthy union:
(i) Honesty: often the best policy – transparency isn't always easy if you hail from a family where money was never discussed.
But from discussing ambitions & setting goals to implementing your financial plan, the twin traits of openness & honesty may be representative of a healthy financial alliance;
(ii) Looking forward – everyone has a history, and most of us have 'baggage' of one sort or another – but don't be a prisoner of the past and look to the future;
(iii) Hired helping hands – we can't all be experts in everything, and nor should we even try to be. Skilful accountants & independent financial advisors can be invaluable buddies;
(iv) Doing the paperwork – being disorganised is common, but rarely helpful!; and
(v) Teamwork makes the dream work – sometimes (though not always) differing aptitudes or tolerances for risk can balance each other out & dovetail nicely.
Once you've decided upon a strategy, consider assigning responsibility for 'who does what' and tackle the world together.
As you can see, this is potentially an enormous subject, but if you nail down these 5 points I reckon you could be well on the way to a happy result.
Money management is important, of course, but only one aspect of life – never forget to enjoy the journey!